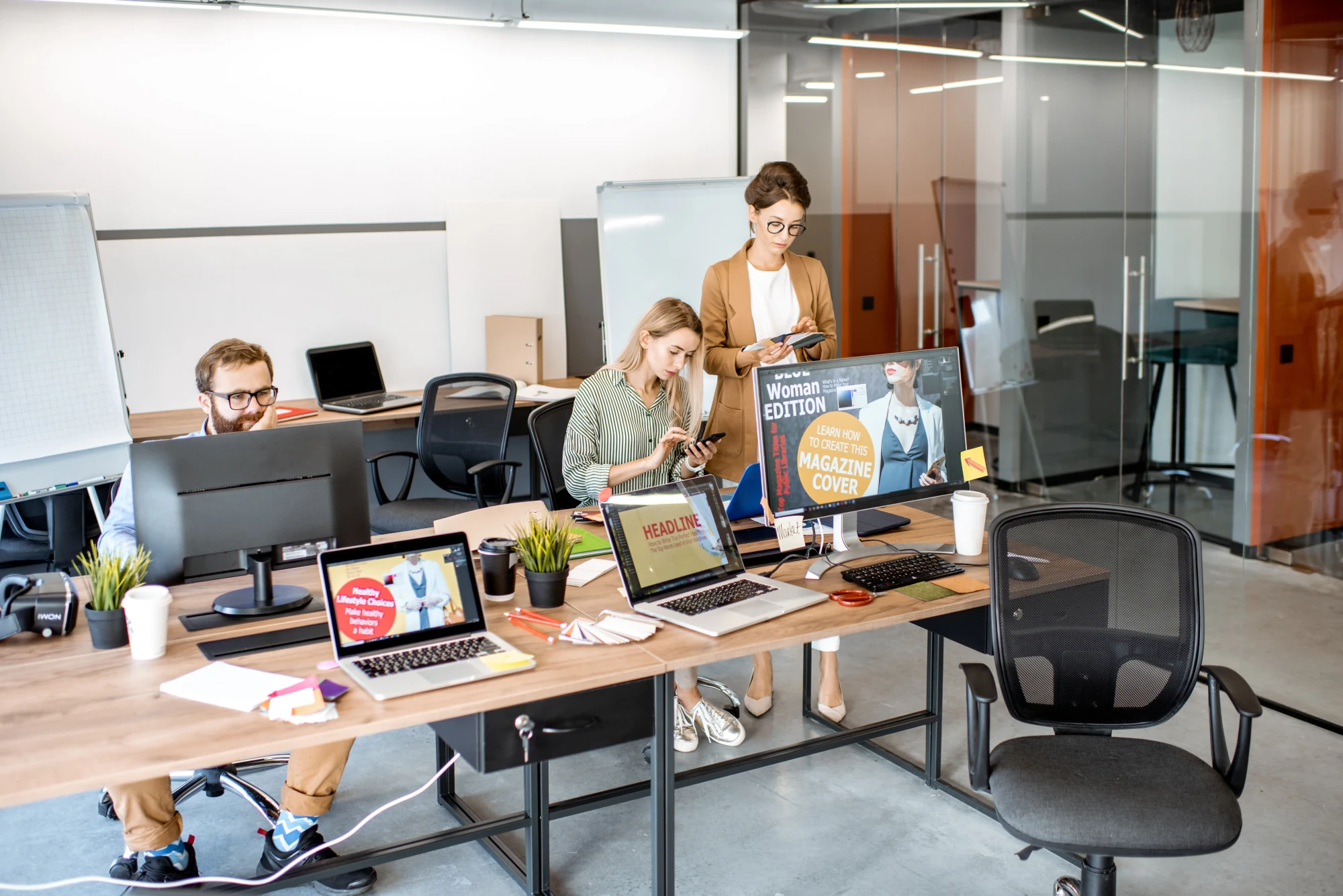 Qik CMS is a no code Web Design & Hosting Solution that goes beyond the basics. Explore limitless opportunities, whether you're building a website for e-commerce, a directory, webinars & events, affiliate marketing, galleries, blogging, or an informational website.
TRUSTED BY ENTREPRENUERS, SMALL BUSINESSES, CORPORATIONS, & AGENCIES!
Our extensive library of pre-built components save you time and effort by providing ready-to-use elements for your website. Simply add one to the page, fill in your content, customize to your liking, and watch your website come to life in no time.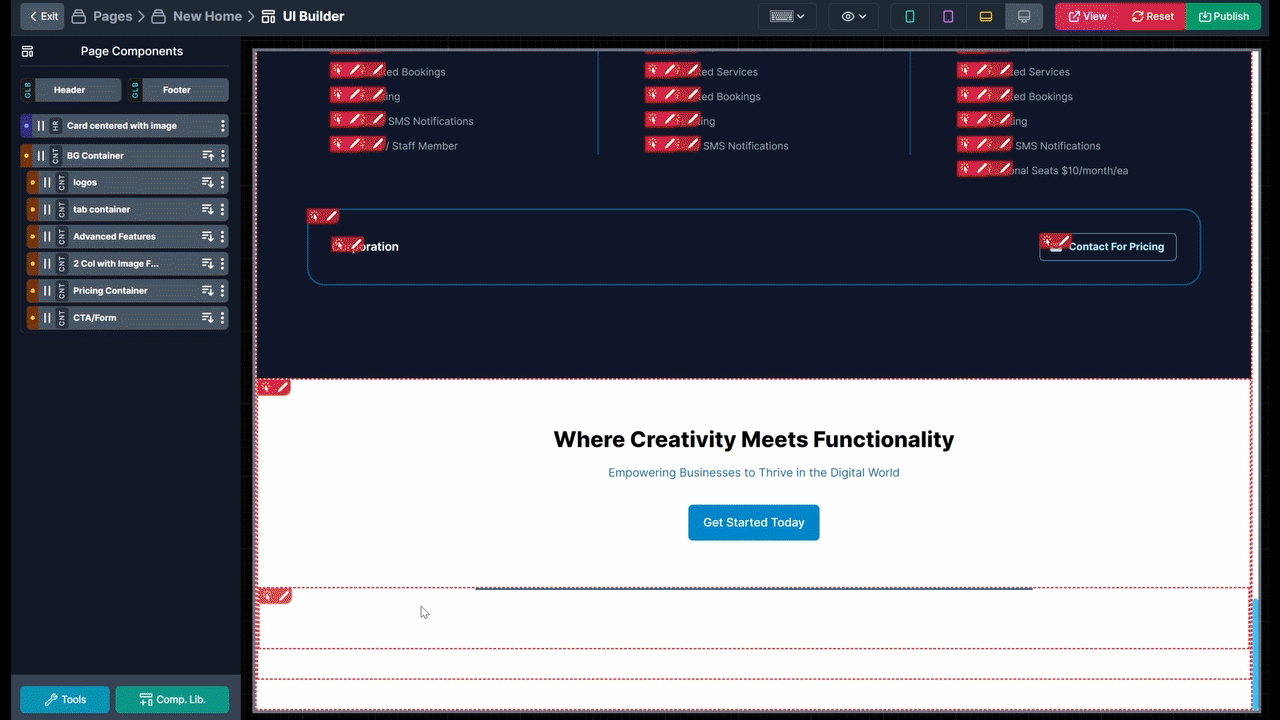 Build your website exactly the way you envision it, combining and personalizing elements to reflect your brand and style. Empower your brand with our intuitive customization options for a truly one-of-a-kind look that will captivate your audience and put your site to work for you.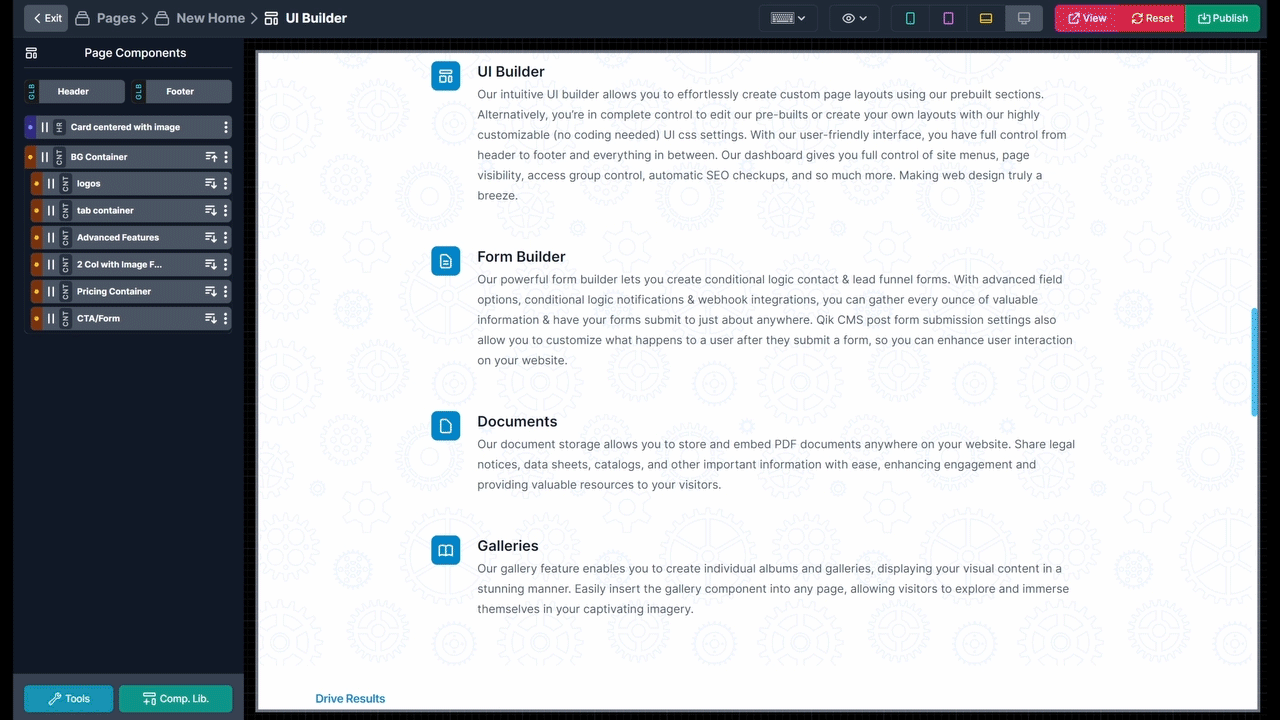 Unleash Your Web Design Potential with Zero Coding in QikCMS. Our intuitive UI builder empowers users to create complex websites, whether it's a blog, e-commerce site, marketing funnel landing page, or informative business site, without any prior coding or web development knowledge.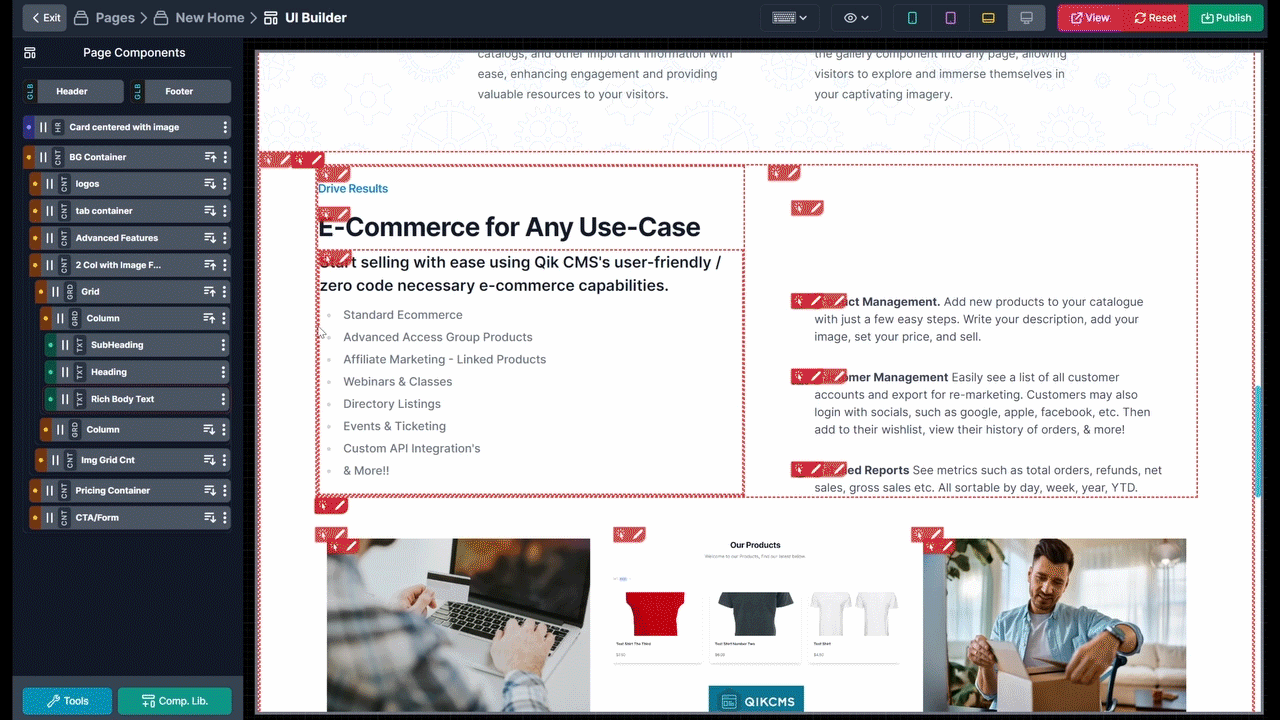 Unlock The Full Potential Of Your Vision
Our features are designed to increase efficiency and take away the headache of trying to build a website. QikCMS allows you to level up your branding, increase your search engine optimization (SEO) capability, and truly make your website work for you.
Our intuitive UI builder allows you to effortlessly create custom page layouts using our prebuilt sections. Alternatively, you're in complete control to edit our pre-builts or create your own layouts with our highly customizable (no coding needed) UI css settings. With our user-friendly interface, you have full control from header to footer and everything in between. Our dashboard gives you full control of site menus, page visibility, access group control, automatic SEO checkups, and so much more. Making web design truly a breeze.
Our powerful form builder lets you create conditional logic contact & lead funnel forms. With advanced field options, conditional logic notifications & webhook integrations, you can gather every ounce of valuable information & have your forms submit to just about anywhere. QikCMS post form submission settings also allow you to customize what happens to a user after they submit a form, so you can enhance user interaction on your website.
Our document storage allows you to store and embed PDF documents anywhere on your website. Share legal notices, data sheets, catalogs, and other important information with ease, enhancing engagement and providing valuable resources to your visitors.
Our gallery feature enables you to create individual albums and galleries, displaying your visual content in a stunning manner. Easily insert the gallery component into any page, allowing visitors to explore and immerse themselves in your captivating imagery.
E-Commerce for Any Use-Case
Start selling with ease using QikCMS's user-friendly / zero code necessary E-Commerce capabilities.
Advanced Access Group Products

Affiliate Marketing - Linked Products

Webinars & Classes

Directory Listings

Events & Ticketing

Custom API Integration's

& More!!
Product Management. Add new products to your catalogue with just a few easy steps. Write your description, add your image, set your price, and sell.
Customer Management Easily see a list of all customer accounts and export for re-marketing. Customers may also login with socials, such as google, apple, facebook, etc. Then add to their wishlist, view their history of orders, & more!
Detailed Reports See metrics such as total orders, refunds, net sales, gross sales etc. All sortable by day, week, year, YTD.
Sign up today and leverage our zero code website builder to design a website that truly works for you!
Additional sites: 3+ $20/ea/mo, 5+ $15/ea/mo
Need an informational website to promote your business? Look no further! Get started building today!
Additional sites: 3+ $30/ea/mo, 5+ $20/ea/mo
Our Zero Code E-Commerce website builder is the perfect fit for anyone looking to sell a product or service.